Beyond the New Sincerity: What is a Post-Post-Ironic Sensibility?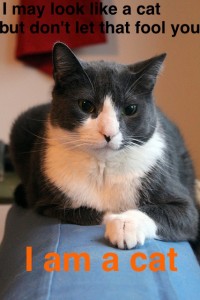 by Grubby
If you've seen The Lego Movie, you know that its tone is playful, self-deprecating, and whimsical. It has themes, but refuses to be ponderous about them. When the Master Builder Vitruvius states the moral message of the film in so many words (something along the lines of "You are special if you believe you are"), he follows up right away with a disclaimer: "I know it sounds like a cat poster, but it's true."
Of course, this disclaimer draws a laugh if you happen to be thinking exactly that before he says it. But the joke is also supposed to be cathartic. If you're given permission to laugh at the silliness of the theme, maybe you can move past derision and also accept the message.
What is it about a platitude that makes us gag? Do we just think it's wrong? Then all we need is to be reminded that truisms are true, and the nausea will subside. But that isn't enough, is it? We also need to be able to laugh it off. Because a platitude is worse than false–it's ridiculous. Innocent of all worldly wisdom, radiating naïveté, it is a sitting duck for mockery.  If you are ever on the internet (apparently, you are), you've probably digested enough mockery that when you hear something high and empty sounding, you can already hear its ironic echoes resounding through the feeds and streams. It's as inevitable as the closing bars of a song, that smug moral pronouncements will soon be reduced to sneering travesties.
Call it bathetic cadence.
Now if you want to repeat a platitude in an atmosphere like this, what do you do? You inoculate it, by mocking it yourself. There's no satisfaction for mockers in taking you down if you've done it yourself in advance. Where I come from, we call that an "apotropaism."
*laughes at all my haters* lol the jokes on u. theres no way u can hate me mor than i hate myselbf

— jomny sun (@jonnysun) April 5, 2014
This is exactly what Vitruvius does when he delivers the message of the movie. (Frozen makes a similar move by having its moral not intoned by a weathered sage but casually dropped by a confirmed idiot.) Children don't need such apologies, but their parents do, because we've grown up in an age of irony. If we want to share an earnest moment with our children, it has to be post-ironic. It has to give us permission to laugh it to scorn even as we take it in.
What do these post-ironic apotropaisms (consider this your take-away phrase to sound impressive when you are describing this article to your friends) mean? Calling them "post-"ironic implies that we've made some progress. Irony must have been a step in the right direction or we'd be trying to get back to the "pre-" ironic. Getting past irony must be even better.
But where have we gotten? A platitude in brackets is still a platitude. If receiving it from a self-deprecating source keeps us from rejecting it, maybe we were rejecting it for the wrong reasons. We should reject platitudes not because they are ridiculous or even because they are false, but because the problems they solve are always inconsequential. Wanting to feel special, for instance, is a distraction from actually doing something that matters, whether it gives you a sense of fulfillment or not. If we simply override our disgust at platitudes, then we are losing the benefit of an ironic sensibility that protects us from such self-satisfied affirmations.
What we need is a post-post-ironic sensibility that is not just a return to irony but an improvement on the whole fruitless back-and-forth between irony and sincerity. Irony can and should be charitable and edifying instead of cynical and destructive. Sincerity does not have to be naive and trite. It can be literate and profound.
---
"Let me put it to you this way…/FEED ME" by  flickr user quinnanya, used under CC BY-SA 2.0 // text added